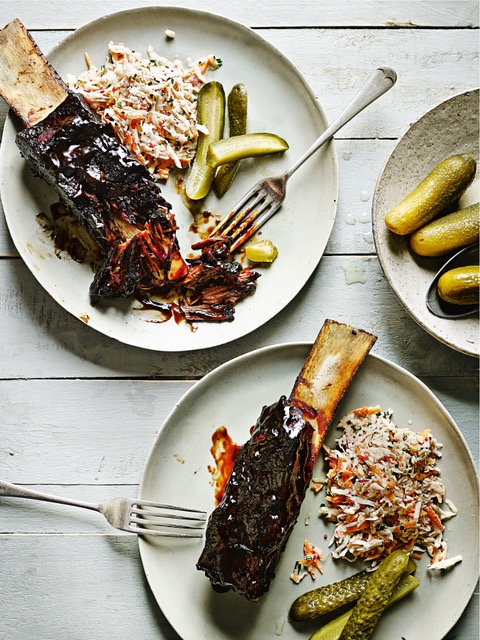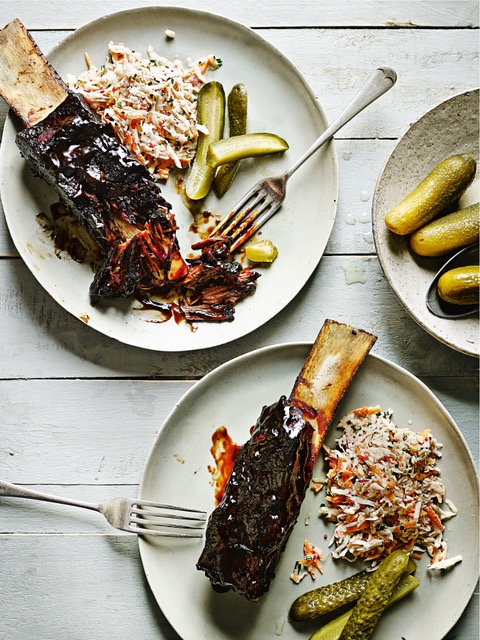 Beef Short Ribs with Smoked Beer and Root Vegetable Slaw
October 19, 2020
Short ribs are a fantastic cut of beef but need to be cooked low and slow. The result is beautifully tender, intensely flavoured beef with a rich barbecue sauce. You can cook the ribs up to the chilling stage a day ahead, so that when your guests turn up the ribs just need to be heated through and basted with the sauce. I normally used a dark, porter-style beer as the toasted malt flavour worked really well with the beef. However, my butcher Will recently introduced me to an amazing German smoked beer called Original Schlenkerla Smokebeer, which is made using toasted malt smoked over birch wood; it's definitely worth trying to get hold of a bottle if you can.
Prep: 40 mins
Cook: 5 hrs
Serves: 4
Ingredients
4 large beef short ribs, weighing approx. 450g each
1 carrot, peeled and roughly chopped
1 celery stick, roughly chopped
1 onion, roughly chopped
6 garlic cloves, bashed
4 star anise
500 ml smoked beer, porter or other dark beer
500 ml beef stock
150 ml Quick Sharp Barbecue Sauce or other tangy barbecue sauce
For the slaw
2 parsnips, peeled and coarsely grated
2 carrots, peeled and coarsely grated
1 red onion, coarsely grated
1/2 small celeriac, peeled
1 teaspoon fine sea salt
1/2 teaspoon caster sugar
1 lemon, the juice
3 tbsp Mayonnaise
2 tsp grain mustard
2 tbsp finely chopped chives
sea salt and freshly ground black pepper
To Serve
Gherkins
Directions
1Preheat the oven to 150°C/gas mark 2.
2Lay the ribs in a large roasting tin with the vegetables, garlic and star anise.
3Bring the beer and stock to the boil in a saucepan, then pour over the ribs.
4Cover the tin tightly with foil and cook for 4 hours.
5Set aside to cool.
6Once the liquid has cooled to room temperature, remove the ribs and transfer to a tray or large plate.
7Cover with clingfilm and chill in the fridge for 2 hours or overnight if possible.
8Strain the liquid from the roasting tin into a clean pan and skim off as much fat as possible.
9Bring to the boil and then reduce by two-thirds until thickened and glossy.
10Remove from the heat and whisk in the barbecue sauce.
11Preheat the barbecue for direct grilling.
12Meanwhile, combine all the slaw ingredients in a large bowl, season to taste and set aside.
13Unwrap the ribs, brush with the sauce and then grill for 10 minutes, turning and basting with the sauce regularly.
14Remove the ribs from the heat, give them a final brush then serve with the slaw, the remaining sauce and gherkins on the side.